WHAT IS DIGITAL DENTAL PRACTICE? The phrase "digital dentistry" is a wide one that refers to any digital dental technology including the use of computer-based hardware and software. The goal is to make it possible for dental professionals to provide care using computer-assisted equipment. Dental professionals may now take impressions, conduct diagnostics, and plan treatments without the use of mechanical instruments thanks to new developments like digital scanning. Digital tools, such as impression scanners and design software, enable dental labs to produce items faster and with less labor.
Digital dentistry has a long history; it originally gained prominence when French dentist Dr. Francois Duret used CAD/CAM (computer-aided design/computer-aided manufacture) concepts to create dental impressions. This occurred in 1984, over four decades ago! Dental experts from many nations throughout the world have created and copyrighted a large number of digital dental technologies since that time to enhance the dental treatment process. However, it turns out that dentists are taking their time adopting this digital dental technology; according to our market study, 85% of dental clinics worldwide still take impressions using an impression tray today.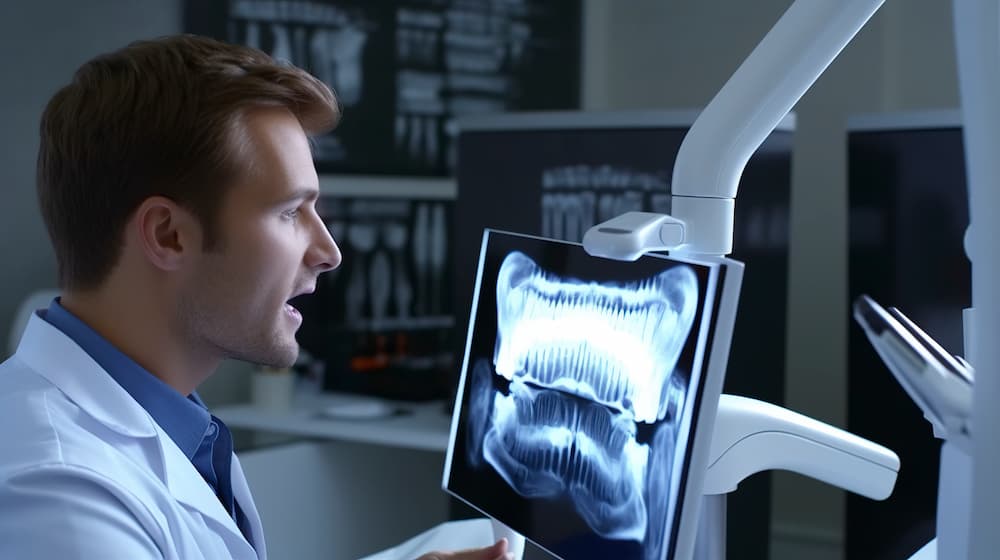 DENTISTRY'S USE OF DIGITAL TECHNOLOGIES
There are many different dentistry uses of digital technology that are available for dental clinics or labs. Imaging, scanning, digital design, and 3D printing or milling independently create technologies that complement one another for the treatment planning, design, and delivery of the finished product. David Guichet's research shows how digital dentistry enhances restorations, lowering costs, and improving effectiveness through advanced scanning technology. What does digitally enhanced dentistry involve, and why do 66% of dentists plan to buy impression scanners within a year, as per our data?
Digital Dentistry Scanning Technology
Depending on where and how they are used—in dental clinics, facing the patient, or in dental laboratories, not facing the patient—digital scanners in dentistry can be divided into various forms. CBCT or intraoral scanners are two categories of dental scanning equipment for clinics. Dental cone beam CT scanners capture mouth X-rays, while intraoral scanners replace sticky impressions, offering greater patient comfort and accuracy. When full denture therapy is required, for instance, the two scan kinds can be combined.
Users construct intraoral scans using polygons, which they can pair with an intraoral camera image. The end result is a lifelike 3D representation of the patient's mouth on a computer or tablet, which enables the dentist to view even the tiniest issues and flaws in the teeth as well as other areas of the cavity that are invisible to the unaided eye. Scanners for dental labs similarly scan a physical space and portray it in a 3D image. They record dental models or impressions for processing, correction, and manufacturing, rather than current in-mouth conditions. In the sections below, we'll explain how you can employ various hardware and software configurations for digital scanning in dentistry.
Digital dentistry using CAD/CAM
The terms "computer-aided design (CAD) technology" and "computer-aided manufacturing (CAM) technology" relate to the software programs utilized in dentistry as well as other industries like the automobile sector. CAD/CAM covers design, manufacturing, scanning, dental design, milling, printing, and mouth delivery in dentistry, beyond its official scope. This method, which people can complete in as little as 40 minutes, can facilitate single-visit therapy. CAD/CAM techniques enhance treatment accuracy, speed, and cost, reducing patient burden, as per research.
Doctors, specialists, and lab techs use digital dentistry software for dental restorations, prostheses, designs, and treatment planning. These options are quick and predictable, and make it easy for the patient to evaluate planning, design, and manufacturing. The software streamlines CAD/CAM design by analyzing intraoral/impression scans, reducing manual design efforts significantly.
DENTAL WORKFLOW IN DIGITAL FORMAT
The typical digital dental workflow will always include these three steps:
Taking digital impressions or scanning:-
Since it involves photographing the patient's dentition, this is the only step that is visible to them. Of course, a traditional impression can initiate a digital workflow in the lab, but for the patient's benefit, using an intraoral scanner to capture the impression would be the ideal situation. Since the treatment typically only takes 2-3 minutes, the patient will view the 3D image of their teeth on the screen at this point. The lab technician takes equal time scanning plaster models and conventional impressions with a desktop scanner.
Planning and design of the treatment-
At this point, dental specialists or doctors create restorations and other treatments using CAD/CAM software, a part of digital dentistry. Based on patient or lab feedback, we can immediately update or improve the design or treatment plan.
Manufacturing of products-
Manufacturers can now transfer all approved digital designs for appliances (including aligners and retainers), dentures, crowns, bridges, splints, indirect bonding trays, or any other restoration product for the patient to dental 3D printers or milling machines for fabrication. The patient returns at this step in the digital dentistry workflow to begin or receive their treatment.