Veneers are very thin covers that go over the front of your natural teeth to make them seem better. One way to change the appearance of your teeth is with veneer. Other methods include crowns, tooth bonding, and enameloplasty. Veneers come in two primary categories: composite and porcelain. Porcelain veneers are manufactured specifically for your teeth out of porcelain, as implied by the name. The same kind of resin used for tooth bonding is frequently utilized to create composite veneers, which are manufactured to look like natural teeth.
Dental veneers are made to hide abnormalities in your teeth and enhance your smile. Misshapen or crooked teeth, teeth that need to be whiter or are discolored, stained, or chipped, and circumstances where the enamel has eroded are some abnormalities that dental veneers can help with.
Veneer can cover a portion of your teeth, but they are not the same as crowns, which are thicker and can completely encase a tooth from all sides, including the back. In addition, more tooth grinding will be necessary for crowns than for veneer.
Both types of veneers have advantages and disadvantages, so it's crucial to take into account your budget as well as the severity of the problem you're trying to fix.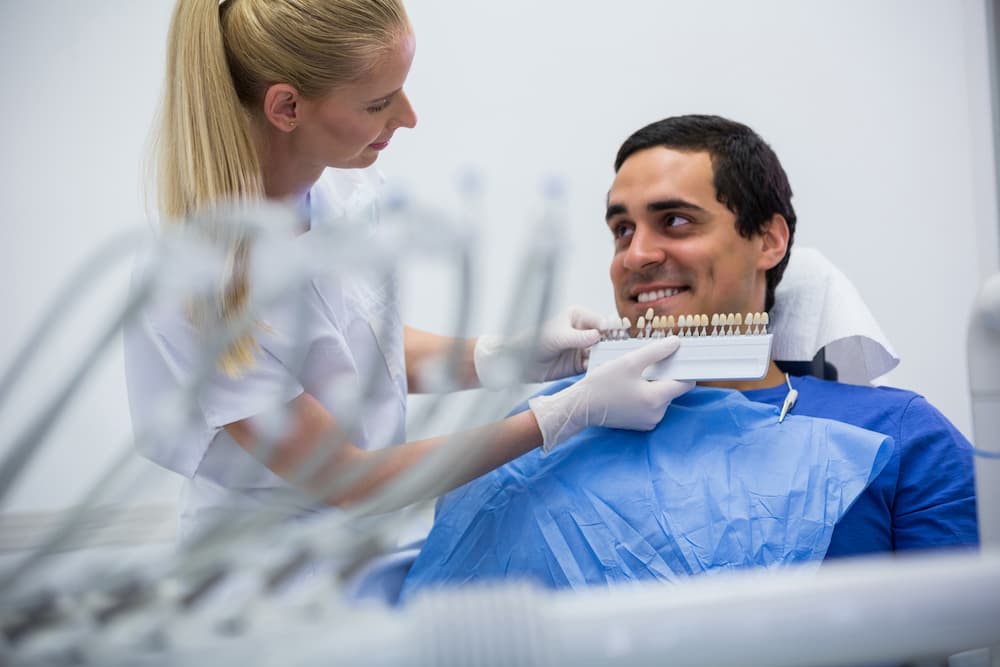 Benefits Of Veneers
A dental veneer can hide defects in your teeth and give you a uniform, radiant smile.
Teeth that are crooked or malformed, chipped, stained, or discolored are examples of imperfections. Your teeth may also have enamel that has deteriorated.
Veneer just covers a portion of your teeth, unlike crowns, which are thicker and completely wrap a tooth from the front to the back. Additionally, veneer may or may not require more dental preparation than crowns do.
Veneer could be an excellent option if you only want to change the form or color of your teeth and when they are in generally good condition.
Varieties of veneers
Veneers composed of composite resin that is put directly into your teeth are known as direct composite veneers.
A dentist can prepare your teeth for veneer application in a short amount of time, and the procedure is thought to be minimally invasive.
Indirect Composite Veneer
Direct and indirect composite veneers differ primarily in how they are applied, not in the materials themselves.
Your teeth are prepared just as they would be for conventional direct composite veneers, but the veneer is fabricated 'indirectly' outside of the mouth, either in a dental laboratory or at your dentist's office.
Until the indirect composite veneers are manufactured, you will be given a set of temporary veneers. The indirect composite veneer is placed on your teeth with a coat of glue at the following visit.
Composite veneers that are indirect rather than direct can handle more abrasions and have fracture resistance. However, they frequently cost more than direct composite veneers.
PORCELAIN VENEER
Your teeth's porcelain veneers are manufactured specifically for you.
Impressions of your teeth from the dental lab can create the veneer from the mold, which could take a week or longer. Similar to the indirect composite veneer, you will be given a set of temporary veneers while you wait.
The thin porcelain shells seem as natural as possible and bond them to the front of your teeth when they are prepared.
Among the benefits of porcelain veneer are:
Developed to orders
Longer lasting as a result of the use of stronger materials
Ability to restore teeth with deeper stains
Most natural appearance
Porcelain veneer drawbacks include:
Greater expense
It can come loose and need to be replaced.
The application calls for multiple dental appointments.
When compared to composite, more tooth structure must be removed.
COMPOSITE VENEER
The following are some advantages of composite veneer:
They are cheaper.
Rapid application (same-day therapy)
Able to cover any cosmetic problem (such as discolorations, crooked teeth, etc.)
Among the drawbacks of composite veneer are:
Materials could chip because they are 5% weaker than porcelain.
7 to 10 years lasting available
Resemble porcelain significantly less naturally
Can make teeth appear whiter, but not with teeth that are incredibly black.