Diode lasers in Gingivectomy
The most frequent procedure using dental diode lasers is gingivectomy. We can precisely cut the gingiva using any laser wavelength for periodontal, aesthetic, and restorative purposes. Patients rarely require periodontal packing or sutures after surgery and frequently experience quick recovery and reduced pain. To prevent collateral damage, it's important to understand the thermal effects of diodes, Nd: YAG lasers, and CO2 lasers, although these tools are highly powerful in the hands of well-trained users. Because of the limited heat effect produced by erbium laser pulsed technology, shallow penetration, and water absorption allows us to occasionally complete simple procedures with no anesthesia at all. The erbium tissue interaction's almost "cold cutting" impact produces a stunning post-operative course.
Today, dentists use lasers as a primary tool or a supplement in numerous dental operations. Clinicians can choose from a variety of technologies depending on the application because the way tissue reacts requires different laser wavelengths for different therapies. Dental diode lasers encompass units that are primarily or exclusively used on soft tissue, such as Nd: YAG, diode, and 10.6-m CO2 units, as well as units that selectively suit either hard or soft tissue procedures, such as Er: YAG and 9.3-m CO2 units. Hard tissue lasers include Er: YAG and Er, Cr: YSGG. Sulcular debridement, the laser-assisted new attachment method, bacterial level reduction, biopsies, frenectomies, and gingivectomy operations are a few applications for soft tissue utilization.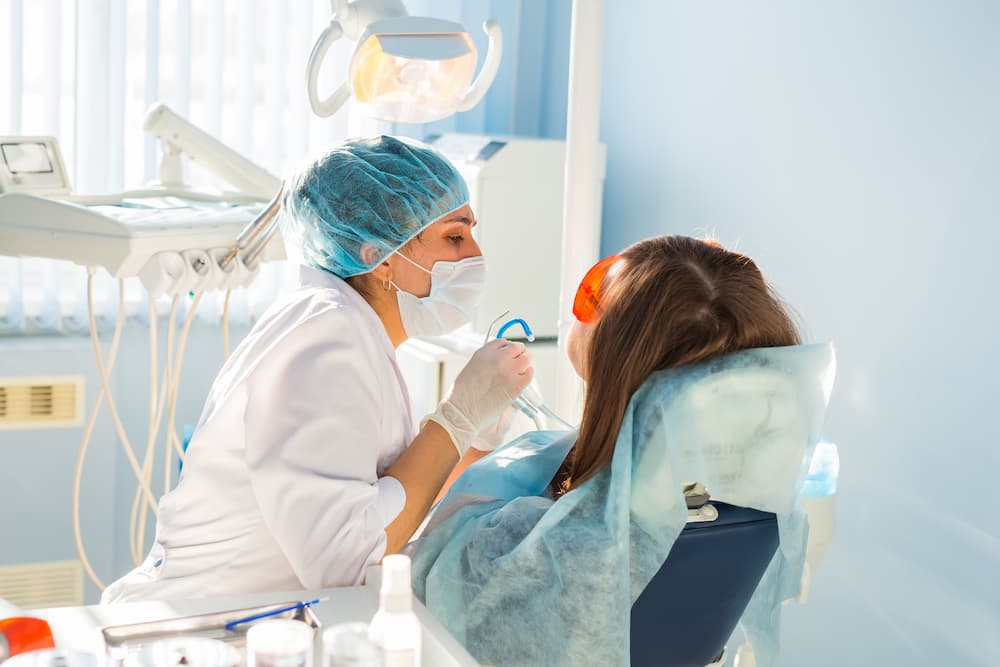 UTILIZING LASERS AS A COMPLEMENTARY OR ALTERNATIVE THERAPY METHOD MAY EASE THE HEALING PROCESS AND AID IN TREATMENT. LESS DISCOMFORT FOR PATIENTS AND INCREASED PRECISION AND VISUALIZATION FOR OPERATORS ARE POTENTIAL BENEFITS OVER TRADITIONAL APPROACHES. BOTH A STAND-ALONE THERAPEUTIC APPROACH AND AN ADJUVANT ONE, LASERS ARE EXPANDING THE DENTISTRY TOOLKIT. THE CLINICAL STUDY FOCUSES ON DIODE LASERS FOR GINGIVECTOMY, USED AT WAVELENGTHS OF 655-980 NM FOR SOFT-TISSUE APPLICATIONS.
Patients are becoming more and more knowledgeable about facial aesthetics and procedures to enhance their smiles. Patients' complaints about their "short" clinical crowns are a typical occurrence in dental offices. Common causes include tissue hyperplasia a condition known as passive eruption, as well as coronal deterioration brought on by injury, caries, or attrition.
Active and passive phases are present during an eruption. The active eruption is the term for the tooth's migration from the alveolar bone to the occlusal plane. The dentogingival junction migrates apically during passive eruption, exposing the tooth's crown. In 12% of people, altered passive eruption—which is defined as the gingiva failing to move apically—occurs. In these patients, clinicians indicate gingivectomy, or the excision or removal of the gingiva, to reduce infection and decrease the depth of the gingival sulcus.
MEDICAL TECHNIQUE
To complete local anesthesia, we injected 36 mg of 2% lidocaine and 0.18 mg of 1:100K epi into the buccal vestibule of the maxillary incisors. Then, we measured using a periodontal probe and an explorer after applying the best reduction methods.
A continuous mode, 0.5-watt amplitude laser for soft tissue at a wavelength of 980 nm was used. The Gingivectomy laser was started by running the tip along the paper until smoke was produced, which was accomplished by contacting it to the occlusal paper at a 45-degree angle. The laser's tip appeared to be a deep black color. After initiation, they switched the laser to pulsing mode and set it to a 0.6-watt amplitude. Apply laser in brush-like strokes from right to left incisor, maintaining a distal position for effective treatment.
Throughout the operation, the watt amplitude was gradually increased. When the keratinized gingiva's pigment brightened above the maxillary left central incisor, they raised the watt amplitude to 1.2. Amplitude modification is required for more effective cutting in lighter colors since the laser is drawn to darker pigments.
Minimal bleeding during the laser process helped with immediate visualization of the results. White enamel spots beneath excised tissue showed a shiny appearance, suggesting successful remineralization. After the procedure, the patient took one 600 mg ibuprofen tablet, reporting minimal postoperative pain (1/10).